RECRUITMENT
Improve Recruit Education
Educate new and potential recruits on their rights.
Educate recruits about the Feres Doctrine and their legal rights.
Require a safety video message. Just like a new job orientation, have recruits view a safety video message.
Explain HIPAA rules to recruits. Should be explained verbally and in written form.
Education on beneficiary designation and benefits. Require designation notarized.
Send contract and beneficiary designation paperwork in paper form/email to recruit and next of kin.
Adopt a cooling- off or waiting period between the time a potential recruit arrives and when the enlistment contract is signed.
Provide full military benefits to those enlisted or commissioned into the Military Ready Reserves.
MILITARY ENTRANCE PROCESSING STATION (MEPS)
Improve Physical Health Screening
Physical endurance initial strength test: Recruits are required to perform a certain number of pull-ups, push press, sit-ups and a timed 1.5-mile run. An independent third party should be involved to calibrate all results and to certify the numbers are correct. Collection of physical metrics and supervision should be removed from the Military Entrance Processing Station (MEPS) and recruiters.
Medical exam should be completed by a civilian physician

Normal EKG findings before recruit is cleared for any physical activity.
Immunizations completed at least 30 days prior to shipping.

Expand medical diagnostic testing

Genetic and Medical Issues

Blood disorders: sickle cell traits, clotting disorders
Heart abnormalities
Infections including but not limited to: Streptococcus (strep), Staphylococcus aureus (MRSA), HIV/AIDS, hepatitis, meningitis
Autoimmune disorders

Require copy of medical records are given to recruits after testing and results are discussed.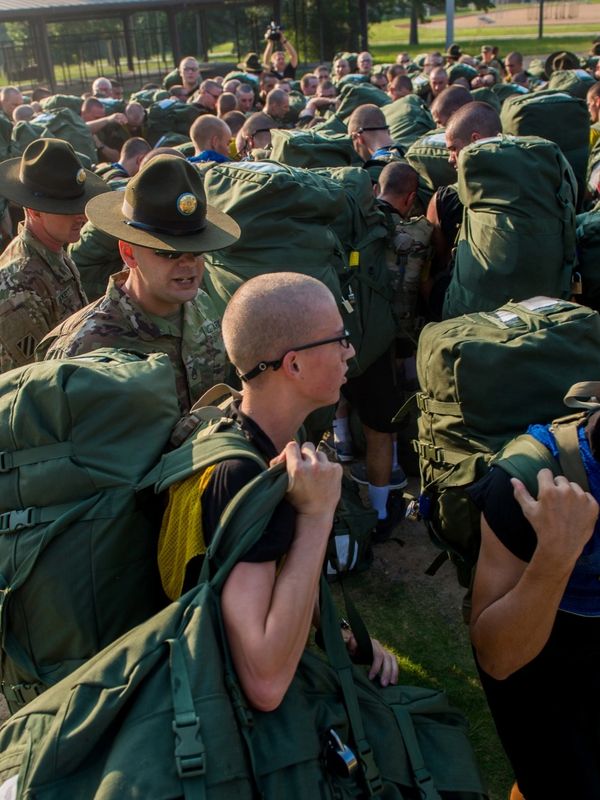 BOOTCAMP/BASIC TRAINING:
Recruits arrive one week prior in a holding pattern to reduce physical and emotional stress. Add one more week to process. Allow phone calls and medical exam.
Assign a health care team point of contact. Improve the continuity of care.
Increase transparency for drill instructors. Utilize both stationary and body cameras.
Require biometric equipment during physical activities for precise health metrics and to prevent health emergencies.
All head and spine impact injuries need approval from medical professionals before cleared for physical activity.
Enforce list of symptoms that require immediate medical treatment like fever, chills, neurological issues, pain, vomiting.
If recruit is sent to sick barracks, they will be sent for medical observation and will have permission to call home.
Create an anonymous tip line.
Display posters containing ombudsman/liaison/advocate contact information and a description of the services available to trainees.
EQUAL PROTECTION OF THE FEDERAL TORT CLAIMS ACT FOR SERVICE MEMBERS IN NON-COMBAT SITUATIONS
Service members and or their next of kin should be afforded the same equal protections under the Federal Tort Claims Act (FTCA) as every other citizen in America.

Service members and or their next of kin should have equal access to the same legal means to file a tort claim for compensation for personal injury, death, or property loss or damage caused by the negligent or wrongful acts or omissions of an employee of the federal government, including the military, for all situations where dereliction of duty, failure of professional skills, medical malpractice and or negligent leadership decisions caused the tort.
Simply by taking the solemn oath to protect the Constitution of the United States of America, should not make our service members second-class citizens and allow our Government and military leaders to act above the law

LEGISLATIVE GOALS

Federal legislation to codify that "incident to service" in the context of a service member's FTCA claim only applies to claims arising out of the combatant activities of the military or naval forces, or the Coast Guard, during time of war, combat, or deployment as already defined in the language of the FTCA found at 28 U.S. Code § 2680 (j).
CACO (CASUALTY ASSISTANCE CALLS OFFICER) PROGRAM
Yearly in-person formal training/certification for CACO personnel. This includes bereavement training and grief counseling.
At minimum, CACO personnel need yearly continuing professional development and a certification process.
Develop codes of conduct. Officers must be professional, compassionate, and respectful.
Anonymous tip line.
Not all CACO officers are created equal. More effort is needed to match the right CACO officer to the family being assisted.